NCDC Leads The Way Among Tier II North American Junior Hockey
The United States Premier Hockey League saw nine of its players who skated in the 2020-21 season ranked in NHL Central Scouting's Final Rankings released on Thursday, May 27.
Eight of the players listed skated in the USPHL's Tier-2, Tuition-Free National Collegiate Development Conference during the season – seven listed as NCDC, one with a different league.
The NCDC was first in North American Tier II Junior Hockey for most 2020-21 season players listed in the Final Rankings
Additionally, one player (Simon Motew) skated in the USPHL Premier with the Chicago Cougars, giving the USPHL Premier its first listing in the NHL Central Scouting rankings since 2017, prior to the formation of the NCDC.
Four more direct USPHL alumni were also listed in the Final Rankings, along with six players with youth hockey ties to USPHL Member Organizations.
The 2021 NHL Entry Draft will be held virtually July 23 (first round) and July 24 (Rounds 2-7). Thirty-two teams will make draft picks this year, including the new Seattle Kraken, who begin their inaugural season in 2021-22.
Below is a summary for each current season player and alumni listed in the NHL Final Rankings.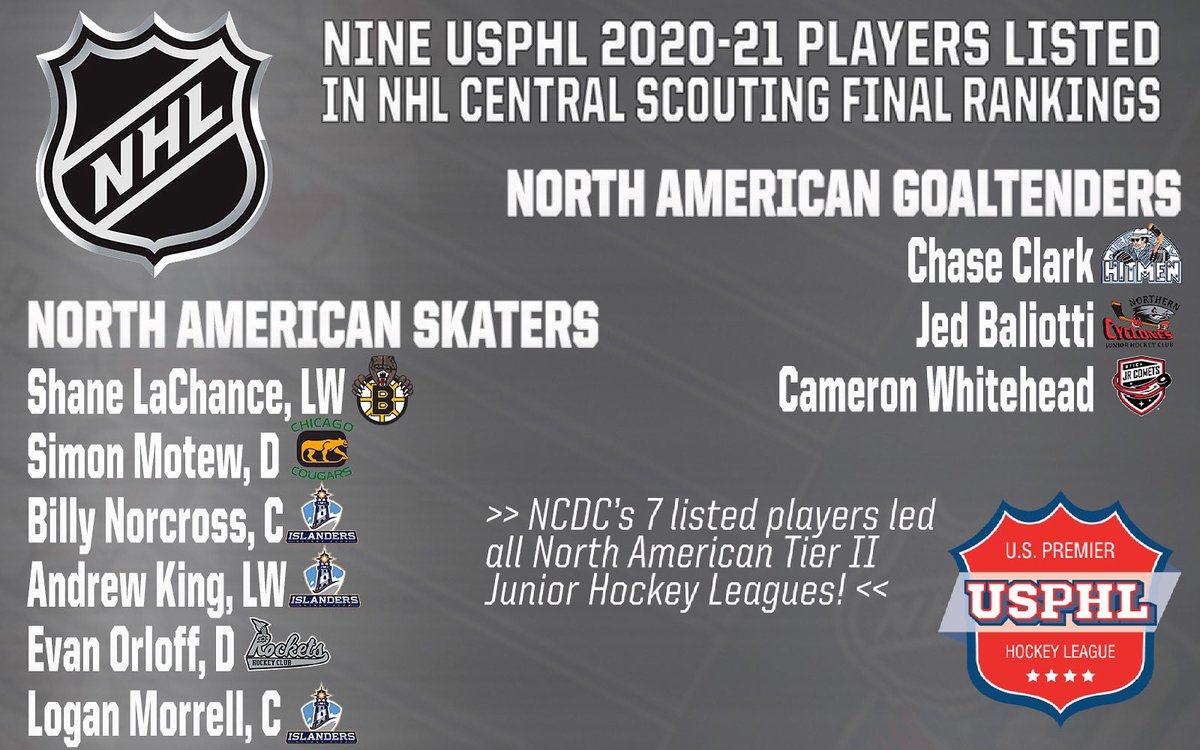 North American Skaters
(Final Ranking listed)
110. Shane LaChance, Boston Junior Bruins (NCDC)
LW, 6'4/190, L, 25-6-9-15 (reg. season) / 6-1-5-6 (playoffs)
LaChance was an immediate hit for the Junior Bruins, remaining a consistent scorer from his November arrival right through the Junior Bruins' run to the Dineen Cup Semifinals. He appeared in the NCDC NHL Prospects All-Star Game on Jan. 18.
129. Simon Motew, Chicago Cougars (USPHL Premier)
D, 6'0/185, R, 21-16-29-45 (reg. season) / 5-8-8-16 (playoffs)
Motew, who played the 2019-20 season with the Kitchener Rangers of the OHL, signed with Chicago where he played alongside his older brother goaltender Asher Motew. Simon shot up the NHL rankings after not being listed in either the October or January Players To Watch Lists.
207. Billy Norcross, Islanders Hockey Club (NCDC)
C, 6'2/185, R, 19-2-6-8 (reg. season)
Norcross made the best of a COVID-limited season, skating from October to December with the Islanders before suffering an injury.
216. Andrew King, Islanders Hockey Club (NCDC)
LW, 5'11/160, L, 1-1-0-1 (reg. season)
It was a brief one-game NCDC appearance for King, but he made the most of his Dec. 4 game with the Islanders, scoring a goal against the Boston Advantage.
220. Evan Orloff, Rockets Hockey Club (NCDC)
D, 6'3/195, L, 39-0-3-3 (reg. season) / 1-0-0-0 (playoffs)
A longtime Rocket going back to the Midget ranks, Orloff was the ultimate defensive defenseman for the biggest comeback team in the NCDC – one which made it from being out of playoff contention in 2020 to the 2021 Dineen Cup Final.
LV. Logan Morrell, Islanders Hockey Club (NCDC)
C, 6'3/194, R, 8-0-7-7 (reg. season)
The Phoenix native also had an injury-shortened season, appearing in just eight contests for the Islanders. During his October run, however, he was another consistent point-producer, actually producing all seven of his points in a six-game scoring streak that started with his first game.
* LV = Limited Viewing.
North American Goaltenders
23. Chase Clark, Jersey Hitmen (NCDC)
6'6/202, R, 18-2-1-1.92-.935 (reg. season) / 2-0-0-2.00-.952 (playoffs)
A 2002-born goalie who would have been eligible for the 2020 Draft, Clark burst onto the scene among a 2003-dominant group by putting together a Dineen Cup Championship season for the ages. Amazingly, he was one of two Hitmen goalies who placed in the top three in all major statistical categories, the other being Damon Beaver.
24. Jed Baliotti, Northern Cyclones (NCDC)
6'3/191, L, 8-2-5-0-0-3.82-.879 (reg. season) / 2-1-1-0-0-2.76-.917 (playoffs)
Baliotti joined the Cyclones towards the end of the Hub City Tampa event, playing all but one of his eight regular season games in Florida. Baliotti is committed to the University of New Hampshire.
30. Cameron Whitehead, Utica Jr. Comets (NCDC)
6'3/165, L, 29-11-12-3-0-3.40-.896 (reg. season) / 2-0-1-1-5.01-.898 (playoffs)
After getting acquainted during the fall with the NCDC, Whitehead was on fire in Tampa, winning six of his first seven starts there, including five in a row from the outset. He added a three-game winning streak in February before departing the Hub City.
USPHL Alumni Listed In Final Rankings
North American Skaters
56. Jacob Guevin, D (Northwood School / USPHL 18U / 2019-20)
The former Northwood player put together a 5-11-16 line in 12 USPHL 18U games in 2019-20, adding another assist in three games at the USPHL 18U playoffs. He is set to play for the University of Nebraska-Omaha in 2021-22.
136. Cameron MacDonald, C (Connecticut Jr. Rangers / NCDC / 2018-19)
A one-time Connecticut Jr. Rangers draft pick, MacDonald joined for a game and scored a highlight-reel odd-angle goal in his single NCDC appearance. He currently plays major junior in the QMJHL.
179. Nate Benoit, D (Northern Cyclones / USPHL 15U, 16U, NCDC / 2017-20)
Benoit was a career Cyclone at essentially every level from youth to U16, plus a three-game stint with the NCDC team during his second of two point-rich USPHL 16U seasons. He scored a total of 49 points in 55 USPHL 15U and 16U regular season games over three years.
North American Goaltenders
8. Arseni Sergeyev, G (Rockets Hockey Club / NCDC / 2019-20)
Sergeyev played in three different leagues in 2019-20, and ended up playing four games for the Rockets' NCDC team in 2019-20. In those games, he posted a .926 save percentage, a 3.46 goals against average and a 1-2-1 record.
USPHL Organizational Alumni
North American Skaters
6. Matthew Beniers (South Shore Kings Youth / Boston Junior Bruins Youth)
80. Peter Reynolds (Islanders Hockey Club Youth)
125. Ryan St. Louis (Connecticut Jr. Rangers Youth)
184. Nick Roukounakis (Boston Junior Bruins Youth)
185. Paul Davey (Connecticut Jr. Rangers Youth)
196. Tyler Rubin (Boston Junior Bruins Youth)
Congratulations to all of those ranked and best of luck at the 2021 NHL Entry Draft!